INTRODUCTION
Abdulmumin Edidi is a young Civil Engineer, Youth and Community
Development Advocate, also Research and Policy Development
Enthusiast. He has being a part of projects ranging, Building, Bridge, and
Road constructions, he also has a research publication on Effect of
Recycled Aggregate on Concrete Strength in an attempt of designing and
developing low cost housing systems for middle and low income earners in
Nigeria.
EXPERIENCE
Abdulmumin is a Member of World Youth Alliance, an organization that advocates for the human dignity as well as people driven policies. He is currently a Contributor at Chatham House, Common Futures Conversation Forum where African-European policies are discussed. As an African Future Leaders Fellow, Abdulmumin was appointed Team Lead for African Future Leaders Summit (African Youth: Arise Beyond Boarders) planning committee in 2020, where youth focused African policies and action plans were discussed. He has also been reappointed to play the same role in 2021.
With about 5 years experience in Youth and Community Development. He currently serves as Coordinator; Lagos Community Youth Development Initiative a position in which he led The Governor's Election monitoring team at The Local Government Elections, and also mobilises youths for community development activities. He is an Outreach Volunteer with Global Changemakers, and Program Manager Startup Lagos. Abdulmumin has been part of various Youth Development reports, including UN Future of Education Report in 2021, and also Our Common Agenda Report by UNF Next Generation Fellows.
In 2020 Abdulmumin participated in the Youth Center for Research, Summer Research Program where he and three other Co-Researchers studied Youth and Political Engagement in Developing Economies around the World. The team was subsequently awarded The Best Research Team at the end of the SRP, and the Research Paper is currently being reviewed for publication.
SKILLS AND ACHIEVEMENTS
He believes in providing data and policy driven solutions to social problems, he is a Critical thinker, Mobiliser and Negotiator with endearing Leadership and Management skills, who is passionate about ensuring a Balanced and Sustainable Society, where there is equal opportunity for all. Abdulmumin has been awarded Best Legislator and Student Leader, and also Outstanding Youth of the Year..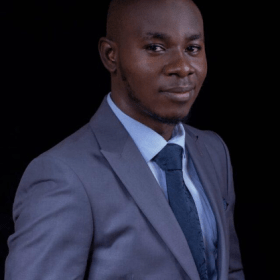 ABDULMUMIN EDIDI
Non-Resident Research Fellow – Nigeria