INTRODUCTION
Aisha Shaqfa is a Palestinian Refugee living with her family in the Gaza Strip. Despite the challenges associated with living in such conflicting zones, Aisha has focused her energy on education and learning with a heartfelt belief that it is the key for a better life. Currently, she works as a Trainer of English language, as well as she has been an independent Translator & Interpreter between Arabic and English languages.
Aisha completed a BA of English language & Teaching Methods from Al Aqsa University, Gaza with a GPA of 91.1%. Within one year from graduation, she moved to Turkey after winning a scholarship to further her higher education in Izmir where she completed a Master's program of Conflict Resolution – Dokuz Eylul University. In addition to the formal education, Aisha has joined many courses and forums including mental health of Refugees, diplomacy and international relations, communication skills, scientific research and so on.
RESEARCH
As a researcher, Aisha published her thesis as a book "Intergroup Contact in Neighborhoods" at Sholars' Press. Not limited to immigration and refugee studies, Aisha's areas of interest include inclusive education, peace education, mental health, gender-based violence, and climate change.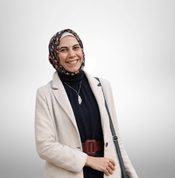 AISHA SHAQFA
Non-Resident Research Fellow – Palestine