INTRODUCTION
Muhammad Ashar Khan is a development practitioner in the making. He is a sophomore year student of Social Development and Policy at Habib University.
Second year in his academic affiliation, he is holding an important office of the Vice President of the most prestigious Habib Debate Union Club at the university. He is playing a key role in ensuring that the youth stands firm and vocal to develop and guard their position on socio-economic and political issues of consequence.
EXPERIENCE AND INTERESTS
Ashar has a keen interest in research-oriented fields with particular focus on sustainable Development and political economy. He has been a part of a number of research endeavors. His research focus areas include global social and financial inequality, heterodox economics, South Asian economic growth, and gender inequality in modern economies. He is currently serving as a Research Fellow at SB Compliances to develop labour policy solution in lines with International Labour Laws and their conventions to protect labour rights. His research is playing pivotal role in promoting ethical business practices.
Muhammad Ashar Khan aims to peruse his career in the field of Development and Political Economy.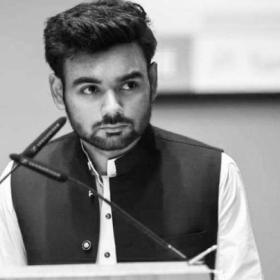 Muhammad Ashar Khan
Resident Research Fellow – Pakistan